Qualities of A4000i
1. With its top class driving performance, you have no problem riding double or on the slope.
The A4000i was produced with higher technologies of Japan, which offer new qualities different from the regular gas-engine motorcycles.
You will have no problem driving double or drive on the slopes.
A4000i realized a 60 km run with one charge (4.5 hours).
In the 2014 Octoer issue of the magazine, "Motorcyclist," we have got the reputation of "Top class traveling performance and riding quality."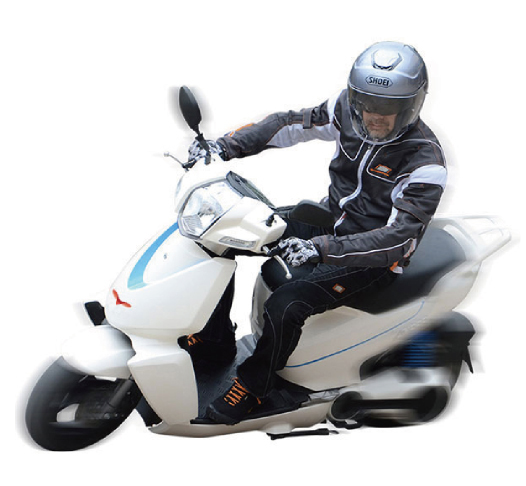 2. 4.4 times more economical than gas engine scooters
The A4000i travels 60 km (※2) with one full charge (42 yen of electricity charge ※1).
In other words, if 1 liter of gasoline is 124 yen (※3), the distance traveled by electricity equivalent to that will be about 177 km.
If the gasoline scooter's fuel consumption performance is 40 km / L, the A4000i will be 4.4 times economical efficient than the regular gas scooters.
In addition, maintenance costs such as oil and plug replacement are not required for electric motorcycles.
※1 Calculated from the average electricity consumption of 428.2 kwh and average electricity fee of 9,000 yen for 2014 households of two or more people
※2 30 km / h when running on the ground. It depends on various conditions such as weather, road, vehicle, driving and maintenance conditions.
※3 From the average price of regular gasoline in June – July 2016
※3 Electricity charge for full charge, yuppe (25 yen), A4000i (42 yen), BIZMOⅡ (60 yen)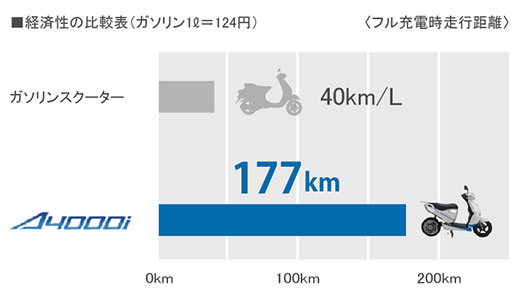 3. ou can remove the battery and charge it anywhere
The conventional electric motorcycle had no removable battery so it was impossible to charge without a power outlet in the parking lot.
A4000i can be charged directly by connecting the power supply to the motorcycle, but you can also remove the battery from the body of the motorcycle, and you can charge it anywhere where there is an outlet.
In addition, the time required for full charge is only 4.5 hours.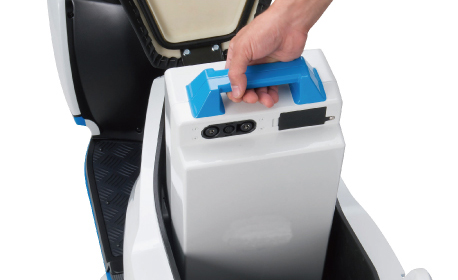 4.You can connect your smartphone with the panel of A4000i.
Your smartphone can be attached to the panel of your smartphone.
You can record information on your smartphones such as the running data.
※For iPhone only