STORY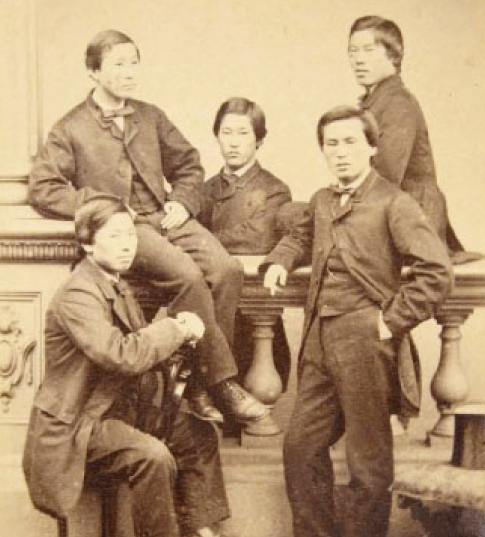 Choshu 5-Jie (Choshu Five) / 5 Choshu clan who went to Europe from the Choshu clan at the end of the Bakumatsu, studied at a university like London etc. Inoue Bunta (Kaoru), Endou Kinsuke, Yamao yozo, Ito Shunsuke (Hirobumi), Nomura Yakichi (Inoue Masaru).
Professional soccer team "RENOFA YAMAGUCHI" and TSUBAME E-TIME were both born in Yamaguchi Prefecture, the place of Meiji Restoration. Even though the field of fighting is different between the soccer team and the small and medium enterprises, it is trying to become a presence that brings about innovation to each world as well as the regional economy.
"RENOFA YAMAGUCHI" was established in 1949 as a Yamaguchi Prefectural Teacher Association. He was promoted to the Chinese league in 1980, and after two years he has finished 2nd in the league. However, after that I was forced to struggle, I had to demote to the Yamaguchi prefecture league and return to the Chinese league. And in 2006, under the call of "Team creation aiming for the J League" (Yamaguchi Prefecture Football Association), we launched a new club as "RENOFA YAMAGUCHI". After being JFL, J 3, it was promoted to J 2 in 2016, and is now making a leap toward aiming at J 1.
RENOFA's RENO is renovation (FA), FA is figth (fight). Like the predecessors of Yamaguchi Prefecture who accomplished the Meiji Restoration, the wishes of wishing the Japanese football world to carve their name are included.
Meanwhile, TSUBAME GROUP, the mother of "TSUBAME E-TIME", brought up the production as a gas station TSUBAME SEKIYU in Iwakuni City in 1957. Although I was able to smoothly raise performance while riding on the flow of motorization, since 1996, due to deregulation, gasoline price competition intensified. While changing to a business format providing total car lift such as car inspection, sheet metal, insurance, etc., we have reached the formation of a corporate body called TSUBAME GROUP. And in 2014, TSUBAME E-TIME was born, entering the electric motorcycle business by taking a company.
Traditionally, production of motorcycles has been considered to be possible only by major manufacturers. However, the structure of electric motorcycles is relatively simple. You can also make use of the know-how of the automobile peripheral business that we have cultivated up to now. Furthermore, the market spreads not only to Japan but also to Asian countries, and there is no inconvenience for overseas access even in the local city called Iwakuni city. From Yamaguchi prefecture to the world market, electric motorcycle crosses the sea and is being offered.
TSUBAME E-TIME also has ambition. To be successful in the electric motorcycle business in the global market while being small and medium enterprises in local cities. This is a refreshment that opens up a new path for Japanese small and medium enterprises in difficult circumstances.
TSUBAME E-TIME has released RENOFA yuppe, a special model of the main motorized motorcycle. It is to devote Yale to the team with the will of the Restoration.