Testimonials


Useful for commuting and shopping
Anonymous/Housekeeper, 48 years old, From Shuto, Iwakuni City
July, 2016
Bought "yuppe" in September, 2015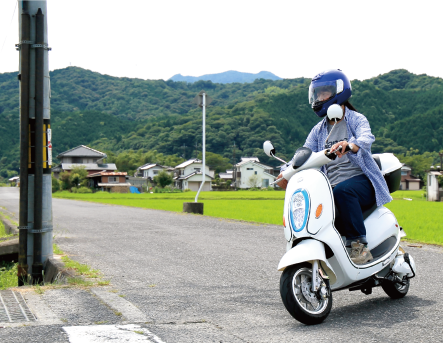 Yuppe for commuting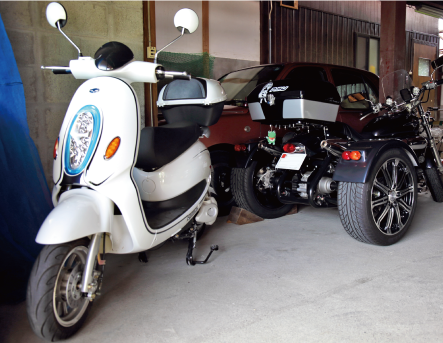 Yuppe stands right next to my husband's threetar
The reason why I bought yuppe
My husband likes to ride the motorcycles and he found yuppe on the Internet. The producing company was from Iwakuni, where we're from, and we already knew its mother company, Tsubame Oil very well. So we decided to go to the test-drive event.
It was my first experience to ride the motorcycle itself, and I was so scared to drive… When I turned on the engine, it didn't make any noise or vibration! I accelerated the engine and I didn't have any problem to drive! We decided to buy yuppe only two or three days after the test-drive event.
Ride Quality
I ride my yuppe for communing. If it rains, I drive my car, but if it doesn't rain, I ride my type. It's pretty comfortable to ride an electric motorcycle. The motorcycle doesn't need gas and not much electricity either.
I charge the battery every night. But I once forgot to charge the battery for a while and the motorcycle slowed down. So since then, I have always charged the battery the night before. If only for one day or two, you can ride it without charging the battery, I think.
You don't really see the electric motorcycles around this area, so people are surprised to see the motorcycle running without making much noise. I feel good to receive such attentions also.
Troubles and inconvenience
I once had a minor problem with my yuppe. I heard a weird noise from the motor, and I contacted the shop. They came right away and fixed the problem. It happened within the warranty period so I didn't have to pay at all. The mechanic person was easy to talk to and fixed the problem right away.
One request that I have is if you can create more space in the luggage box. I always wish I could put more things in the box when I go grocery shopping. And another thing is that the motorcycle is too quiet so sometimes people standing right by don't recognize me driving,
Glad that I bought my yuppe!
It's been 10 months since I bought my yuppe. I have been commuting to my work with my yuppe except the rainy season. I also drive it when I go shopping or go somewhere near my house. It is very convenient and I'm glad that I have my yuppe with me now.