Testimonials


I'm happy I don't have to put gas anymore!
Anonymous(Office worker, From Iwakuni City)
Bought "yuppe" in June, 2016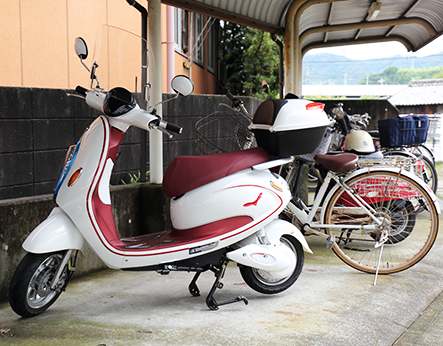 Red yuppe in the parking lot of the apartment
The reason why I bought my yuppe
After I moved here, I was looking for a regular motorcycle to commute to my work place, which is 6km away from my house. There is no bus that goes to the office and I only have driver's license for motorcycle.
I saw the brochure about the electric motorcycles. I used to drive regular motorcycles about 20 years ago, but I never liked the smell of the gas and the smog. Electric motorcycles don't need gas nor I have to put gas into the motorcycle. That's the No.1 reason I decided to buy the yuppe.
Less cost
It's been only three weeks since I started to ride my yuppe and it has been pretty confortable to drive it. I asked my boss if I could charge the battery at the office and I do so now. There is no cost that I have to pay so far. If something goes wrong with my yuppe, the shop is very close to my workplace so I have no worry about maintaining my yuppe.
Yuppe only speeds up to 40km/h so I don't have to worry about getting a ticket from the police. It's perfect for people who don't like to drive so fast.
Little inconvenience
I have little difficulty starting the engine on the slope. I don't usually run on the slope so it has been okay so far.
I often go grocery shopping to the supermarket near my house and I sometimes wish I could put more stuff in the luggage box of my yuppe.
So happy I don't have to put gas
I'm planning to ride my yuppe everyday to commute to my work place. I feel good that I will never need to put gas to my yuppe!